Slovnaft opens two new service stations on the PR1BINA expressway providing energy and comfort for drivers
a pair of Slovnaft service stations close to the village of Pohranice near Nitra completed
the missing infrastructure for the travelling public in both directions
the new service stations offers a complete range of traditional and alternative fuels
Slovnaft invested EUR 4.3 million in the construction of twin service stations
more than 60 new jobs had been created in the region thanks to the 24/7 operation of
the new stations
Bratislava, 17 June 2022 – The new modern service stations raised on the PR1BINA expressway close to the village of Pohranice near Nitra in both directions for cars, drivers and travellers. The sections of the expressway without the possibility of refuelling have thus been shortened by approximately half. There is a full range of traditional fuels, LPG, AdBlue and a 150 kW charging station for electric vehicles on offer. Moreover, a unique feature will soon be available on site: refuelling of CNG comfortably directly from the refuelling stands. Slovnaft has invested 4.3 million euros in the construction of the pair of service stations, which offer both environmentally friendly solutions and accessible services for people with physical disabilities and limited mobility. The stations have created more than 60 new permanent jobs in the region. Slovnaft currently operates 272 service stations in Slovakia.
"Our newest service stations are unique in several areas. The five integrated refuelling stands are located in the largest roofed refuelling area. The stands are equipped with self-service payment terminals and customers can draw water for their windscreen washer from the Ecotanks while they are filling up. The restaurant part of our stations has undergone the most significant transformation. At Pohranice, our customers will find a modern gastro concept that responds to the demand for quality home cooking. We are thus reaching a new level of on-the-go catering," said Oszkár Világi, Chairman of the Board of Directors and CEO of SLOVNAFT, a.s.
The largest refuelling area offers a generous space for convenient access directly to the shop without refuelling via separate passing lanes. Slovnaft emphasised ecological solutions at the two new service stations – Ecotanks are installed at each dispenser for cars, saving both time and nature – washer fluid can be pumped directly during refuelling in the required quantity and without creating plastic packaging waste. Green roofs, green fences, heat pump heating and smart exterior and interior lighting that reacts to the movement of cars and customers, energy-saving LED lights. These attributes approve the environmental friendliness of the new Slovnaft service stations.
The shop offers a comfortable and customer-friendly shopping design and surprises with a new concept of a modern restaurant and kitchen that brings traditional Slovak cuisine from quality ingredients. The atmosphere of the restaurant is underlined with rustic interior elements, wood details and 3D printed custom designer lamps. Whether you choose to sit in the restaurant or fancy a coffee to go, the traditional and reliably high quality Fresh Corner menu is not to be missed.
"Motorway service stations are the safe spots for travelling customers on their journeys. They need to rest, to recharge or refuel their cars, but also to relax and to energize themselves. I believe that our customers will be delighted by our new restaurants, which will surprise them not only with their design, but also with tasty meals made from quality ingredients. The rush on the motorway service stations can be enormous, so their operation must run reliably like clockwork," emphasized Timea Reicher, Director of the SLOVNAFT Retail Store, a.s.
When designing the service stations, Slovnaft cooperated with the civic association Bez bariéry, Košice, and thus both of them also meet the needs of customers with physical disabilities. Noteworthy features include an enlarged designated parking space, a handrail for better balance when handling personal belongings at a checkout counter, a round table in the restaurant area that is easier to access with wheelchair, and a special toilet for the disabled with adjustable folding mirrors and a handling bed for adults. The doors in the rooms for people with disabilities can be opened with a Euro-key and the tills are equipped with communication and sound amplification equipment for people using hearing aids.
There is also a dedicated children's toilet and a bidet shower with washbasin in the ladies' toilets. Most of the materials are antibacterial. Customers will find water, soap dispenser, hand drying facilities or paper towels in one compact unit above each washbasin.
Behind the new service stations there is a spacious rest area with plenty of parking places and benches, a children's playground and a dog run.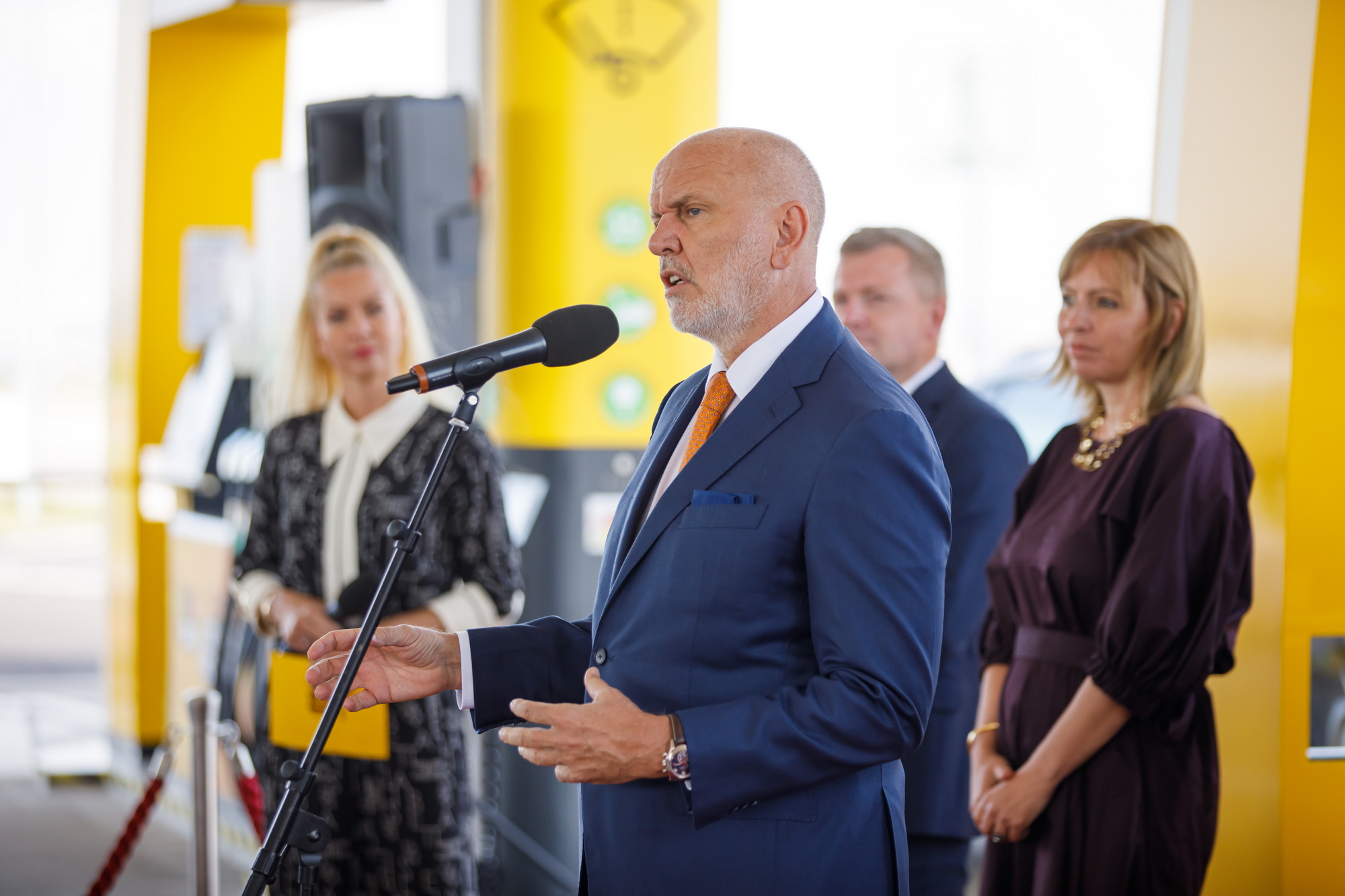 About SLOVNAFT Group
SLOVNAFT Group is an integrated refining and petrochemical group. The key company of the Group is SLOVNAFT, a.s., which is mainly engaged in the processing of crude oil in one of the most complex European refineries and in the wholesale and retail sale of fuels. Slovnaft operates the largest network of petrol stations in the Slovak Republic. The company is one of Slovakia's leaders in CSR and corporate philanthropy, and significantly supports sports, culture, education, youth and environmental revitalisation. Forbes magazine ranked Slovnaft among the most valuable Slovak brands. SLOVNAFT Group is a member of the international MOL Group.
Contact for media:
Anton Molnár
Spokesperson and Head of Communications
tel: +421 905 393 161