Press Releases
2019-04-26

Regular turnaround in the Slovnaft Refinery in the coming weeks
extensive inspection of the technical condition and maintenance have been planned in advance, they are not connected with current problems with crude oil supplies
the maintenance will take about two months
within the framework of the spring general reviews and technological breaks, Slovnaft is investing more than €67 million in its facilities
BRATISLAVA, 26 April 2019 – At the end of this week, Slovnaft will shut down some of its production facilities. The reason for this is the regular general maintenance and technological breaks that ensure the smooth operation of the technology. Together 21 production units will be shut down gradually. Their relaunch into full production is scheduled for the second half of June.
During the turnaround, there will be an extensive inspection of the technical condition and maintenance of the facilities, as well as their modernization. The goal is to reduce the energy intensity of oil products and increase safety and reliability. The total investment of Slovnaft in the framework of general reviews exceeds €67 million. In terms of costs, historically these are the biggest shutdowns in the Bratislava refinery.
Work during the general reviews may be accompanied by increased noise levels, odour and eventual burning on gas flares. The aim of Slovnaft is to reduce the negative impacts of activities reducing the comfort of the residents living near the refinery to the minimum necessary. Slovnaft will continuously report on the impact of the work on the comfort of the residents on the website www.slovnaft.sk/gr2019. Information for the public will be updated every week, the 24-hour infoline on 02/4055 8929  or e-mail gr2019@slovnaft.sk are available for questions.
The main supplier is the subsidiary Slovnaft Montáže a Opravy. During the turnaround, there will be around 1500 external employees working in Slovnaft.
Slovnaft customers were informed in advance about the turnaround of  part of the Bratislava refinery.
2019-03-29

Slovnaft BAjk presents a new price list for the 2019 cycling season
From 1 April, Slovnaft BAjk will offer a new portfolio of programs for bicycle sharing users in Bratislava
The offer includes programs covering long-term and short-term use of the service
BRATISLAVA, 29 March 2019 – In the 2019 cycling season, the bicycle sharing service Slovnaft Bajk, available in Bratislava, will have a new price list. The offer will launch at the beginning of April and it includes passes covering long-term and short-term use, as well as student passes. There will be more bicycles available for users, and numerous initial bugs which were identified during the testing phase have been fixed to ensure a trouble-free new season.
In the new cycling season, users will be able to choose from three standard programs depending on how often they use the bicycle sharing service. The "KLASIK" program is ideal for those who use Slovnaft BAjk as a complementary means of transport along with public or individual transport. Users can choose an annual pass for EUR 29.40 or a monthly pass for EUR 9. Both passes cover an unlimited number of rides within a 30-minute period and with EUR 0.60 credit. Rides over 30 minutes are subject to a fee of 12 cents for each completed 6-minute ride and the final amount will be withdrawn from the user's credit. The credit needs to be topped up.
Users and tourists interested in a single use of the Slovnaft BAjk service can choose a one-day pass for EUR 6. In this case, users buy a PIN code valid for 24 hours, during which they can use the bicycle sharing service. Single-use passes require the user to pay a deposit of EUR 70 that will be blocked from their account. This program includes unlimited rides over a 12-hour period, after which the user will pay 12 cents for each completed 6-minute ride. The amount will be deducted from the deposit and the remaining amount will be returned to the user's account.
"PREMIUM" is a program ideal for frequent users of Bratislava's bicycle sharing service. The pass costs EUR 38.40 and covers all rides under 60 minutes and a credit of EUR 2.40. For rides over 60 minutes, the fees valid for other programs apply. Slovnaft BAjk also thinks about students, teachers and young people. If you are a holder of an ISIC, ITIC or EURO26 card, you are entitled to a discounted annual pass and you can rent yellow bikes for EUR 19.20.
All PIN codes purchased during the testing phase will remain valid until 30 April, and they can be used from May only when users prolong their promo program in their profile with one of the programs valid for the new cycling season. In such case, the users will not lose their unused credit from the testing phase, instead it will be added to the credit within the new selected service.
Students, teachers and young people cannot prolong their program. In this case it is necessary to purchase a new program using an ISIC, ITIC or EURO26 card number. They will not lose their unused credit from the testing period, since the provider is preparing a functionality ensuring credit transfer between respective programs in their profile on the service page or in the mobile application.
The new price-list reflects what was expected from the beginning: that, after the testing phase, during which users could use Slovnaft Bajk services just for €1, the fees for the service are reaching an adequate value.
Slovnaft BAjk has become a popular means of transport along with public and individual transport in the capital city. More than 41,000 users have registered since the launch of the service, making more than 220,000 rides in total. Shortly after the service's launch, a community of users formed which helps us to identify bikes or docking stations with malfunctions and actively suggests tips for improvement. It is also thanks to our users that we made the locking system easier, modified the bike's display information, made the information on the number of bikes on our website clearer, expanded the info line's competences, strengthened the smart locks and their reliability, installed seats for taller people and improved the user interface of online user profiles. The mobile application will be available to users from the second half of April. We initiated increasing the number of bicycles in the streets of Bratislava at the beginning of March. At that time there were 250 bicycles available and the number is still increasing. A fleet of 400 bicycles will be available during April. The highest number of bicycles is expected during the summer months. New docking stations will be added to 4 city districts in which the system is currently in operation. We have moved forward in removing the issue of "ghost bicycles", which was a significant loss of reliability of this service from the point of view of users. The error rate of available bicycles indication has been decreased by approximately 50% and we expect that that percentile will increase even more rapidly in the coming months.
2019-02-08

We have launched the 12th Talents of New Europe
Talented young people can also receive a grant in the field of art, science and sports this year
Slovnaft and the Central European Foundation have redistributed 66,000 euros in the 12th year
Within the program, over 350 young talents have been supported at almost 720,000 euros for 11 years
BRATISLAVA, 5 February 2019 - Talented children and young people can join the Talents of New Europe grant program by 25 February 2019. Slovnaft and the Central European Foundation are also re-distributing 66,000 euros among gifted talents.
The Talents of New Europe Grant Program is designed for everyone from 8 to 25 years of age, who excel in their talents and who want to continue in the field of art, science or sports. The financial support can be used to buy a musical instrument, sports equipment or scientific equipment or participate in competitions, workshops and courses where they represent not only themselves but also Slovakia. Many of these events are held abroad and for many families with gifted children participating in these events is financially demanding. For this reason, Slovnaft and the Central European Foundation see great importance in supporting talent who are already achieving excellent results.
In the 11th Talents of New Europe, 24-year-old Dominik Bari, whose Oymyakon documentary reached the top 80 best documentaries in the world, has been supported by the American Academy of Arts, and has qualified for the Oscar. He spent the week in the coldest place on our planet, where they measured the lowest temperature at -71.2 °C.
"It is very inspiring for us to see what these young people are capable of managing in fulfilling their visions. The fact that they are successful gives us the incentive to continue the program," said Szilvia Czuczor, CEO of the Central European Foundation.
It also supported 16-year-old Ondrej Vrabel, who developed applications for children with special needs, and Pinf Games presented these at an international forum in Singapore. Currently, 23 games are available in 13 languages and are used in approximately 1,500 homes in Slovakia.
"Our long-term goal is to support those who have the chance of succeeding in international competitions as well. We know that it is demanding, as we are one of the top exporters in Slovakia. We believe that through the grants we contribute not only to the development of exceptional talent but also to the positive image of our country," said Anton Molnár, spokesman and director of Slovnaft's Corporate and Marketing Communication. 
Altogether, 350 young talents have been supported under the Talents of New Europe Grant Program, for which almost 720,000 euros has been redistributed. Last year, 54 children and young people out of 185 were supported, including 30 in sport and the remaining 24 in science and art.
For more information on Talents of New Europe, visit www.tne.sk
2018-12-03

Slovnaft is the most trusted brand of filling stations

Bratislava, 30 November 2018 – Slovnaft is again the most trusted brand in the filling station segment. This has been decided by Slovak consumers in one of the most extensive surveys focused on customer trust. At the turn of September and October, 2,000 respondents became involved in the 3rd annual marketing program to rate nearly 420 brands in 47 categories.  

A survey conducted by the research agency Nielsen has shown that Slovak consumers are relatively constant and loyal when it comes to trust. Out of 35 "traditional categories", as many as 25 last year winners have defended their primacy. The filling stations category was included in the rating for the second time and Slovnaft was again its winner.

Slovnaft operates in the Slovak market the country´s biggest network of 253 filling stations. Modern Fresh Corner shops and cafes are located in the majority of them. In addition to fresh coffee, these also offer on-site baked sweet and salt pastry and fast snacks.
2018-11-26

Štefan Svitko is to go to his jubilee tenth Dakar
on 6 January, Dakar Rally starts its 41st edition in Lima, Peru
the expedition´s motorcycle and accompanying vehicles set sail to South America on 23. November, with SLOVNAFT Rally Team scheduled to fly to Peru in late December 2018.
The most successful Slovak motorcycle racer, triple European champion and a fresh 20-time endure and cross-country Slovak champion, Štefan Svitko, will be racing in the prestigious Dakar Rally once again in the colours of Slovnaft Rally Team.
This will be his jubilee tenth start in the world´s toughest motor race. The upcoming 41st annual Dakar starts on 6 January in the Peruvian capital Lima, where the race is also slated to finish on 17 January 2019. This annual race will also be unique in that the entire rally will occur in Peruvian territory only. The route length is some 5,000 kilometres, of which as much as 70% are sandy roads.
In this race, Štefan Svitko will also seek to deliver the best possible result. Following his last year´s fall, he is already well health-wise and at the moment fully occupied with getting prepared. "I am planning on making best use of the end of the year to get prepared. I would like to fly to South America with a feeling that I am prepared in physical and mental terms alike. I had trained the sand dunes ahead of us in Peru in Morocco where I had been virtually during the whole of October. I do know what I am going to undergo, nevertheless the rough conditions may always take by surprise with something new, Accordingly, Dakar is always the biggest challenge."
In August, Štefan defended his last year´s win in Serres Rally 2018 where he won on all of the seven competition days of this Greek adventure. The hot Peruvian Dakar will put through their paces not only Štefan´s fitness and riding skills but also the motorcycle whose flawless running will be provided by MOL Dynamic oils, including motor oils intended even for extreme operating conditions.
Svitko will start with number 11 on the latest KTM 450 Rally Replica with factory support from the motorcycle manufacturer outright at the Dakar. Within SLOVNAFT Rally Team, Štefan will be seconded at the Dakar by the well-proven pair - mechanic Zlatko Novosád and Martin Kubačka in charge of logistics and information transfers from the current event back to home in Slovakia. Other team members proven through last year´s Dakar will include Dominik Žažo and Dominik Guláš.
Since his 2010 Dakar premiere, Štefan Svitko has taken part in all the annual races with Slovnaft´s support. At his very first Dakar event, he came thirteenth in the motorcycle category, becoming the most successful newcomer. The following year, he failed to finish Stage 8 owing to a motorcycle breakdown and had to resign. Two years later, he had an unpleasant fall and dropped out of the race just three stages to go. In 2013, he came in ninth place yet in 2012 and 2015 he took the fifth rungs overall. In 2016, he triumphed in second place. Last year, he untimely called it a day at Dakar after a horrible fall in Stage 10 and for an arm injury.
The Slovak representative´s fans can watch the current goings-on throughout the race, including interesting behind-the-scenes information, at: www.facebook.com/StefanSvitkoFanklub.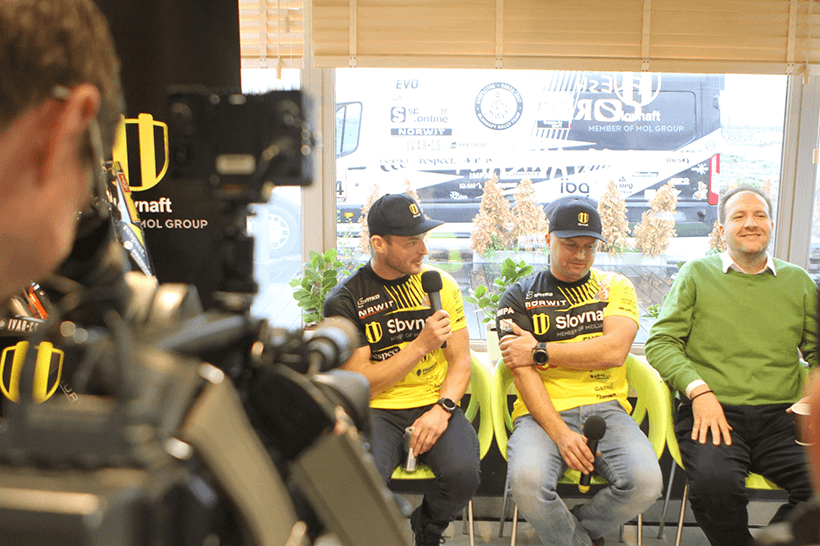 Contact:
Anton Molnár
Head of Corporate and Marketing Communications
phone: +421 905 393 161
2018-10-24

Slovakia needs trees

The Ekopolis Foundation in co-operation with the partner, SLOVNAFT, a.s., announces the 13th annual grant program Green Oases. The topic of this year´s annual environmental program is preserving our natural heritage and related tree planting. A sum of €60,000 will be divided among the best projects.  

As with the previous years´ annual programs, also this year´s annual program intends to respond to the current topics widely echoed in our society. The Ekopolis Foundation´s Program Manager, Milan Hronec, speaks of the need to devote oneself to planting trees: "It is becoming increasingly obvious that climatic change we have not experienced to date immediately concern us as well. Prolonged periods of extreme heat and drought, on the other hand torrential rains. The development impact upon disposal of the existing verdure, particularly in the urban environment, needs to be added to this. In the countryside, another phenomenon is in turn noticeable - disposal of forest and riverside vegetation, and already of individual trees, including traditional fruit tree species along countryside roads. Maria Theresa issued a decree back then that alleys be planted along pathways, which not only designated them but also made people travelling agreeable. The significant landscaping impact of such planting is not negligible, either. Many alleys make up a major part of our cultural and natural heritage to date. Accordingly, the motto of the current year´s annual program Green Oases is: Let us plant trees!".

The grant program Green Oases has already supported for 13 years now active citizens in non-profit organisations, local self-governments, school facilities and leisure centres in creating, renewal or revival of environmentally valuable locations and routes. The primary objective of the program is to promote permanent care of environmentally valuable locations that serve the general public, to encourage environmental protection and sustainability.

As many as 189 applicants became involved in the first round of last year´s annual program Green Oases, of which 107 projects were shortlisted by the advisory committee of the grant program. The program Green Oases is thus a visible proof of a strong interest in the environment and of an increasingly greater involvement by local communities. Inspirational examples include such implemented projects as a community garden at Vrbovec, a Garden Zone for immobile people at Olichovo, or a student-restored orchard at Banská Štiavnica that will serve in addition to learning courses to arrange for a variety of cultural and societal activities.

"Our intention is to get as many people as possible active through the program Green Oases in order for them to start being interested in their environs, to be keen on reshaping it, and not to be indifferent to it. The funds provided by Slovnaft are of importance, however the biggest contribution and success guarantee for the supported project is personal engagement by everyone who will lend a helping hand," says Anton Molnár, Head of SLOVNAFT, a.s., Corporate and Marketing Communications.

The application deadline is 3 December 2018. The best proposals will be shortlisted from among the received applications by an expert commission in January 2019. For detailed information on the grant call and options of how to apply for a grant in the program Green Oases, see:  www.ekopolis.sk, www.oazy.sk a www.slovnaft.sk.

More information is also available from the Ekopolis Foundation Program Manager, Milan Hronec, at 048 / 470 10 95, 0911 452 457, hronec@ekopolis.sk.
2018-10-22

The largest Slovak chains of cafés is at Slovnaft service stations
Slovnaft operates the largest Slovak chain of Fresh Corner cafés
another 13 cafés and in the next year 48 cafés will be added to the current 167 operations at 253 service stations this year
over 20,000 cups of coffee are sold each day in the Fresh Corner chain
BRATISLAVA, 19 October 2018 - Slovnaft is the largest Slovak chain of cafés operating in service stations under the name Fresh Corner. Currently more than 20,000 cups of coffee are sold in 167 operations a day, and another 61 cafés will be added in December and next year. At Fresh Corner, Slovaks have been particularly fond of the quality coffee prepared from over 50 tons of coffee bean every year. The most popular drink is espresso.
Slovnaft opened the first Fresh Corner service stations in July 2015 in Záhorská Bystrica, Lučenec and Vyšný Kubín. Besides fresh coffee, Fresh Corner offers sweet and delicious pastries and snacks. Selected service stations also offer fresh vegetable, fruit salads and healthy drinks – smoothies. At the end of last year, this gastronomic concept grew with the Fresh Corner Restaurant.
Slovnaft invested more than 80 million euros in 2015 in its retail network, including modernization and rebuilding.  This year, for example, the highway service stations in Zeleneč and Dolná Streda were fully reconstructed.   Next year, Slovnaft plans to invest almost €27 million in the retail network.
"Fresh Corner currently represents the brand of the largest café chain in Slovakia. In the Czech Republic and Hungary, we also opened Fresh Corner cafés outside of the service stations and we are also thinking about it in our country," said Timea Reicher, head of the Slovnaft retail network.
A recent Slovnaft survey focused on the drinking habits of Slovaks showed that coffee is an important part of the lives of up to 90% of respondents, who enjoy it at least once a day. Most people have their coffee right after waking up in the comfort of home. Up to seven out of ten people, when choosing a place to buy coffee, focus on its quality and then on the atmosphere and the price/quality ratio.
2018-09-07

Bratislava launches the Slovnaft BAjk bicycle sharing system
residents and visitors of Bratislava can use the service of shared city bicycles Slovnaft Bajk since today
550 smart bikes will be available at 73 docking stations in four capital city districts - Staré Mesto, Nové Mesto, Ružinov and Petržalka
an unlimited riding program with a duration of up to 30 minutes costs 1 euro
BRATISLAVA, September 7, 2018 - The service of shared bicycles Slovnaft BAjk started today in Bratislava. A new form of public transport will bring faster and cheaper transportation within the capital. The joint project of the capital and Slovnaft was ceremonially launched by the mayor of Bratislava Ivo Nesrovnal and the CEO of Slovnaft Gabriel Szabó.
"After Paris, Vienna or Barcelona, also Bratislava has its bikesharing. Our city will get into the line within other more than 30 countries where this alternative, ecological and fast form of urban transport is provided. I am glad that our effort has brought an effective and modern bicycle rental system that Bratislava residents as well as the city visitors will use in the next years, " said Bratislava Mayor Ivo Nesrovnal.
At the initial start-up phase, 550 smart bikes will be available at 73 docking stations. The number of bicycles and docking stations will gradually increase in the coming weeks. During a first year of its pilot operation, a total of 750 bicycles and 90 stations should be in the streets in our four city districts – Staré Mesto, Nové Mesto, Ružinov and Petržalka. The locations of the stations were selected in such a way that it is possible to connect the users to cycling routes and transitions in the use of Bratislava public transport as easily as possible. Docking stations are located at a distance of approximately 300 to 500 meters. Locations may vary continuously depending on users' interest in this service.
Bicycles for Slovnaft BAjk were produced in the European Union according to the requirements of both project partners. Each bike contains a GPS in addition to a built-in computer to constantly keep track of it. A special aluminum frame ensures a lower weight of the bicycle and thus a more comfortable ride. Enhanced tires are more resistant to defect, and even in the event of damage, the user can take a few hundred meters to bring the bike back to one of the stations. Each bicycle was tested before it was put into operation.
The price for the use of the Bratislava bikesharing will be one euro in the first months. For this symbolic sum, each user will receive an unlimited number of rides of up to 30 minutes and a credit of 1 euro to cover the payment for the trip over the free minutes. After spending of free minutes, the bicycle is charged with 12 cents for the each completed 6-minute drive.
Using bicycles is simple and user-friendly. Before renting a bicycle you need to register at www.slovnaftbajk.sk and pay 1 euro. Subsequently, the interested party will receive by SMS the 8-digit PIN code for the unlocking of the bicycle. With this code you can then borrow a free bike and return it to any Slovnaft BAjk docking station.
"By launching Slovnaft BAjk, we are entering a new business segment and thus fulfill our company's strategy to offer our customers also other, innovative services. I would like to ask all people - cyclists, pedestrians and drivers to be eye-catching and behaving with respect for the sake of maximum safety on the road," said CEO of SLOVNAFT, a.s. Gabriel Szabó.
After the termination of the yearly pilot operation, both partners will evaluate the project and will consider the extension of the bicycle sharing service to other parts of Bratislava. Slovnaft has invested 1.5 million euros into the bikesharing, the capital city investments were approximately 500,000 euros.