on 6 January, Dakar Rally starts its 41st edition in Lima, Peru
the expedition´s motorcycle and accompanying vehicles set sail to South America on 23. November, with SLOVNAFT Rally Team scheduled to fly to Peru in late December 2018.
The most successful Slovak motorcycle racer, triple European champion and a fresh 20-time endure and cross-country Slovak champion, Štefan Svitko, will be racing in the prestigious Dakar Rally once again in the colours of Slovnaft Rally Team.
This will be his jubilee tenth start in the world´s toughest motor race. The upcoming 41st annual Dakar starts on 6 January in the Peruvian capital Lima, where the race is also slated to finish on 17 January 2019. This annual race will also be unique in that the entire rally will occur in Peruvian territory only. The route length is some 5,000 kilometres, of which as much as 70% are sandy roads.
In this race, Štefan Svitko will also seek to deliver the best possible result. Following his last year´s fall, he is already well health-wise and at the moment fully occupied with getting prepared. "I am planning on making best use of the end of the year to get prepared. I would like to fly to South America with a feeling that I am prepared in physical and mental terms alike. I had trained the sand dunes ahead of us in Peru in Morocco where I had been virtually during the whole of October. I do know what I am going to undergo, nevertheless the rough conditions may always take by surprise with something new, Accordingly, Dakar is always the biggest challenge."
In August, Štefan defended his last year´s win in Serres Rally 2018 where he won on all of the seven competition days of this Greek adventure. The hot Peruvian Dakar will put through their paces not only Štefan´s fitness and riding skills but also the motorcycle whose flawless running will be provided by MOL Dynamic oils, including motor oils intended even for extreme operating conditions.
Svitko will start with number 11 on the latest KTM 450 Rally Replica with factory support from the motorcycle manufacturer outright at the Dakar. Within SLOVNAFT Rally Team, Štefan will be seconded at the Dakar by the well-proven pair - mechanic Zlatko Novosád and Martin Kubačka in charge of logistics and information transfers from the current event back to home in Slovakia. Other team members proven through last year´s Dakar will include Dominik Žažo and Dominik Guláš.
Since his 2010 Dakar premiere, Štefan Svitko has taken part in all the annual races with Slovnaft´s support. At his very first Dakar event, he came thirteenth in the motorcycle category, becoming the most successful newcomer. The following year, he failed to finish Stage 8 owing to a motorcycle breakdown and had to resign. Two years later, he had an unpleasant fall and dropped out of the race just three stages to go. In 2013, he came in ninth place yet in 2012 and 2015 he took the fifth rungs overall. In 2016, he triumphed in second place. Last year, he untimely called it a day at Dakar after a horrible fall in Stage 10 and for an arm injury.
The Slovak representative´s fans can watch the current goings-on throughout the race, including interesting behind-the-scenes information, at: www.facebook.com/StefanSvitkoFanklub.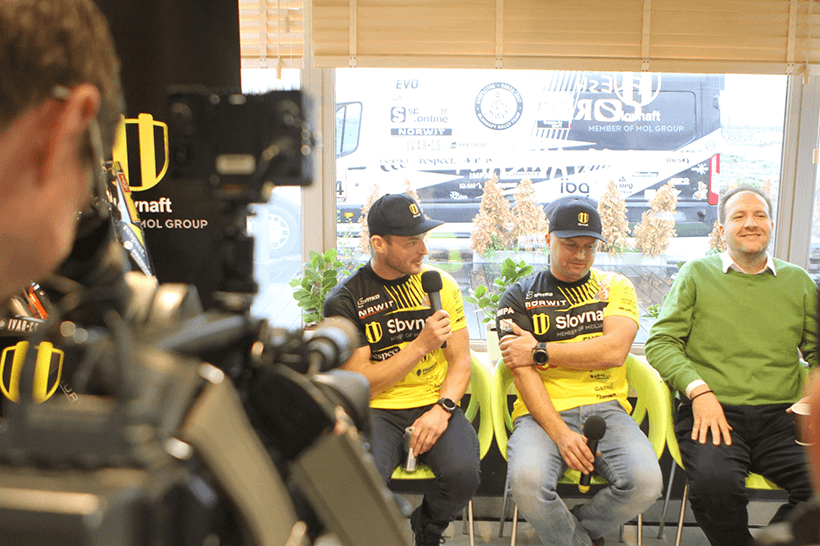 Contact:
Anton Molnár
Head of Corporate and Marketing Communications
phone: +421 905 393 161