MOL Dynamic premium engine oils
The high performance MOL Dynamic engine oils enable efficient operation for the latest and most recently developed engines, creating an ideal balance between performance, engine protection and fuel savings.
The MOL Dynamic synthetic engine oils have obtained the leading vehicle manufacturers' latest approvals and can fully satisfy even the most rigorous performance level requirements.
EXTENDED OIL CHANGE INTERVAL
CLEANER ENGINE
EASY COLD STARTING
LOW OIL CONSUMPTION
FUEL-SAVING
LOW ASH CONTENT
MOL Hykomol gear oils
MOL Hykomol high-performance gear oils provide an efficient and reliable operation and a long life for gearboxes and differentials. They also provide excellent wear protection under heavy loads.
They provide good lubrication even under severe operating conditions and shock loads. They also allow long oil change intervals even at high temperatures.
High performance
Long gear lifetime
Suitable even under severe operating conditions
Perfect for shock loads
Long oil change interval
Precise and noiseless gear switching
Fuel-efficient
MOL Hydro HME hydraulic oils
Due to their carefully selected base oils and state-of-the-art additive systems, MOL Hydro HME hydraulic oils ensure reliable operation and long equipment life, reducing maintenance costs.
They are suitable for high-pressure and high-pump-speed systems, delivering outstanding wear protection and eliminating failures arising from the unsteady operation of working cylinders. No filter clogging — even in the presence of humidity.
Extra cleanness
Outstanding filtration properties
Outstanding wear protection
Excellent wear protection
Low foaming
MOL lubricating greases
MOL lubricating greases, suitable for a wide range of applications, ensure an extended lifetime and reliable wear protection over a long period of time, even under dynamic load and extreme climatic conditions.
Their excellent adhesion properties and water resistance provide protection against corrosion even in wet, humid environments, contributing to a long life for parts.
High operating reliability
Excellent protection
Appropriate lubrication even under dynamic load
Water resistance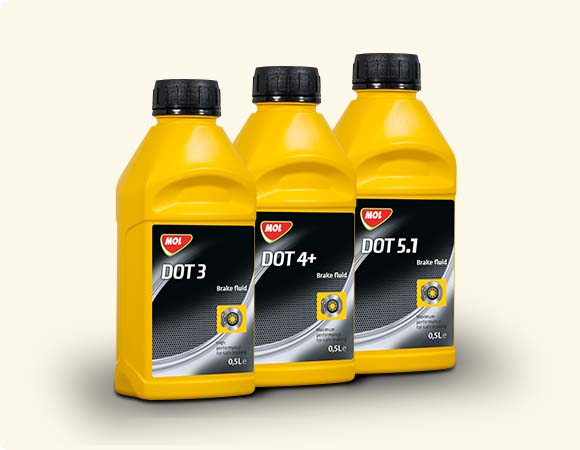 MOL DOT BRAKE FLUIDS
High-performance synthetic MOL DOT brake fluids ensure efficient operation for the hydraulic brake systems, even under extreme loads, guaranteeing safe stopping and long part lifetime.
The fluids block the formation of gas bubbles and ice crystals and allow smooth operation even at 150°C.
EFFICIENT OPERATION
RELIABLE EVEN AT VERY LOW TEMPERATURES
LONG PART LIFETIME
LONG FLUID LIFETIME
EXCELLENT PART COMPATIBILITY
ADBLUE®
AdBlue®, with its outstanding purity and produced under strict control, meets all DIN 70070, ISO 22241-1;2006 specifications. The German Automobile Association (VDA) guarantees the high and consistent quality of AdBlue®.
Its use guarantees the reliable operation and long life of SCR systems. Don't forget to refill AdBlue® fluid every 10,000 km kilometers!
OUTSTANDING PURITY
RELIABLE OPERATION
LONG PART-LIFETIME
EVOX ANTIFREEZE COOLANTS
EVOX antifreeze coolants provide all-round protection and outstanding performance for your vehicle's engine and cooling system. Compared to conventional coolants, EVOX has a more than three times longer lifetime.
EVOX antifreeze coolants meet the specifications and requirements of leading vehicle manufacturers (e.g. VW Group). EVOX Premium even has approval from leading vehicle manufacturers (e.g. Mercedes, MAN, MTU).
CORROSION PROTECTION
PROTECTION AGAINST DEPOSITS
PROTECTION AGAINST FREEZING
PROTECTION AGAINST OVERHEATING
EXCELLENT COMPATIBILITY WITH VEHICLE PARTS
EVOX summer windscreen washer fluids
EVOX summer windscreen washer fluids, made with extra anti-bug additive, remove effectively insects and dirt from the windscreen. They ensure crystal-clear visibility due to their extreme cleaning effect.
The EVOX fluids also provide a refreshing scent and clean without leaving stripes or streaks, without damaging any rubber or plastic parts and ensure no impairment of vehicle paintwork.
STREAK-FREE CLEANING
PLEASANT SCENTS
NO DIRT ADHESION
MOL EcoClean-S degreaser fluid
The solvent-based MOL EcoClean-S degreasing fluid effectively removes oil, grease and bitumen from contaminated vehicle chassis, engines, components and machined metal chips.
Due to its high content of active substance, it dissolves even the strongest contaminants, which can then be easily removed by washing off thoroughly. It is miscible with water, so rinsing is easy.
STRONG CLEANING EFFECT
EASY TO RINSE OFF